Dak Prescott's girlfriend is a popular search topic around Dallas.  Hell, around all of the NFL.  With that in mind, let's take a look at what we know
2020 – ??: Dak Prescott's girlfriend Natalie Buffett
Well, well, well, do we have actual traction here?  Is Dak Prescott's girlfriend about to become Dak Prescott's wife?
So here's what we know.  Dak Prescott's girlfriend Natalie Buffett took to Instagram to wish the QB Happy Valentine's Day.
View this post on Instagram
Innocent enough, right?  Happy Valentine's day.  NBD.  But some people hyper zoomed in on Natalie's left ring finger noting that there's something there.  Now, to our dumb eyes, it certainly doesn't look like the giant rock an NFL franchise QB fiancee would receive, but there is something there.  So, do we have something formal brewing here?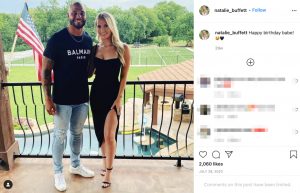 2019: Dak Prescott's girlfriend Ireland Borba?
When you're the face of 'America's Team,' you date models.  It's just kinda, like how it works.  And when it comes to the woman allegedly labeled Dak Prescott's girlfriend, in Irelan Borba, modeling it is.  During the offseason, SportsGossip.com linked the pair.  They were reportedly hanging out prior to their first public sighting at a Top Golf in Tampa, FL.  Badass date spot.
Now both of their Instagram profiles are well manicured to protect from any negative posts.  Neither appears on the others feed.  What that means, remains to be seen.  But for now, it's the latest rumor we have to go on.
2017 – ??: Dak Prescott's girlfriend Yasmine Lee
Dak Prescott's girlfriend Yasmine Lee first turned up on Terez Owens on October 9, 2017. After that, they posted another story which The Sun then picked up. It goes like this: Dak promised not to make love with Yasmine until the Cowboys are out of the playoffs. I both like and dislike this. First, it gives Mr. Prescott some time to get to know Yasmine as a person. However, he claims it's like a good luck charm. This is ludicrous since there's not a lot of luck running through the Cowboys organization right now. Anyway, at least Dak will learn more than us about Yasmine.
We can tell you that this seems like a great step up for Dak. His last relationship with Dallas Nicole Parks turned out to be a huge embarrassment. The Cowboys asked him to tell her to stop blabbing about him and the team. That's never a good sign. So let's talk about Dak Prescott's girlfriend Yasmine. Basically, she's a super hot Instagram model. She gave a few hints that she is involved with Dak so far. Meanwhile, Dak didn't yet make the relationship official on social media. Yasmine posted a photo of her very close to the action on the gridiron. She wore a Prescott jersey. Then she said there is only one player she watches.
Dak Prescott's girlfriend graduated from Arizona State University and currently resides in Dallas. However, I should mention that she travels fairly extensively. She posted pictures of Coachella, Honolulu, and Baja Mexico. It's surprising how little you need to share personally in order to retain 60,000 plus followers on social media. Right now, Yasmine boasts that many and really only puts up pictures of herself in bikinis. But, oh, what pictures! To the best of my knowledge, Yasmine comes from Tempe, Arizona. She visits friends and family there.
2014 – 2016: Dak Prescott's ex-girlfriend Kayla Puzas
Dak Prescott's ex-girlfriend is an Atlanta native and graduate of Georgia Southern University. The couple dated two years ago and broke up some time in between 2014 and 2016 so she is now technically his ex-girlfriend. She erased all the pictures of him from her social media. In 2015 Dak and some friends got beat up over spring break at a concert in Panama City. Details are hazy but someone hit Dak in the face with a bottle and punched and kicked him. I saw a video of him trying to stand up after the altercation.
These days, the woman who used to be Dak Prescott's girlfriend spends her nights going to clubs with friends and taking lots of pictures with them. In fact, she may already have a new boyfriend. She took a picture with him and wished him a happy birthday. She said she couldn't wait to celebrate with him. In March, she was in Los Angeles briefly. She shared only one picture of herself walking around with palm trees in the background, but she went there and tagged the location.
It also looks like Dak Prescott's ex-girlfriend took a vacation to Honduras and Belize with her friends. This was part of a cruise she was on. Additionally, She was on the campus of Mississippi State in March. Could this mean she made friends with people on campus besides Dak? Could Dak have been on campus in March? It's very possible. Perhaps they are still partially together. Whatever the case, Kayla erased every picture of herself with Dak. That almost always means they're not officially a couple. That's great news for men who loves gorgeous Southern women and bad news for Dak, though I think he has a lot of options still coming his way.
2016 – 2017: Dak Prescott's ex-girlfriend Dallas Nicole Parks
Now meet Dak Prescott's ex-girlfriend Dallas Nicole Parks. She apparently quickly became his ex-girlfriend because she had a huge social media meltdown about him. At least, it looked like that for one night. She claimed someone hacked her phone the day after the meltdown. So we don't know what to think at this point. She appeared to write that he was "not who he appeared to be," and that if you "wanted to be treated like shit, go to him."
Firstly, Dak Prescott's girlfriend Dallas took pictures with Johnny Manziel in early July, 2016. While that occurred in July, it may have ended by early September. TerezOwens reported Dallas is dating Dak first. Dallas herself is a model who did work for Playboy and competed in something called "Miss Social." It's a "non-nude social media competition." The website says contestants and judges earn votes based on social media activity and various challenges. I don't really understand it, and I don't really care to. The Cowboys organization and his whole team told Dak to tell Dallas to stop talking about the Cowboys. They probably thought it made them look dumb. Yes, it sort of did.
Dak Prescott's girlfriend is 5'2″ and weighs 120 pounds. She shares her measurements as 34/26/33.  She owns a small white dog that she takes around with her. For Halloween, she dressed up in lingerie and some black wings. Dallas loves going to clubs and bars in skimpy clothes to show off. Her one decent quote that she put up on social media was "sometimes we create our own heartbreaks through expectations." Likewise, she declares her love of money openly and honestly throughout her feed.