Jayson Tatum's ex-girlfriend Samie Amos is a Duke University volleyball player. Now we should point out that this one came in hot to the PlayerWives.com tip line, and there's a bit of connecting the dots taking place here. A reader pointed this relationship out to us. She comes from Pittsburgh, the city of her birth and now attends Duke.  But before we dive further, we should also clarify it's pretty clear this relationship is kaput at this time.
Jayson Tatum's ex-girlfriend situation is a little complex.
Now here's where things get complicated.  On January 13, 2018, Jayson Tatum proudly introduced the world to his new son, Jayson Christopher Tatum.  Deuce!  Kid is a legend in Boston a couple years later.  However, even then, it was clear that Samie Amos is not the little man's father.  Samie played a full season of Volleyball at Duke last fall, while also posting very not pregnant pictures in the weeks around Deuce's introduction to the world.  At the time, we realized there was a spectrum of possibilities.   They continued being friendly via social media, frequently commenting on the other's posts.  Samie loyally tweeted about the Celtics savior often.   Her Twitter bio pic was the two of them together, and she even recently commented on an article about them dating.  Since it's tough to pinpoint the start of their relationship, it's probably not fair to speculate on how they got there.  Whatever the status of their relationship is, congratulations to Jayson for the birth of his son.
Our confusion was later clarified.  Deuce's mother was not in fact Sami Amos, but was a woman named Toriah Lachelle.  And from the public appearances, there does appear to be some overlap in timeline.  For her part, Sami took to Instagram to let it be known that Jayson Tatum blew it.  SportsGossip.com screenshot the commnet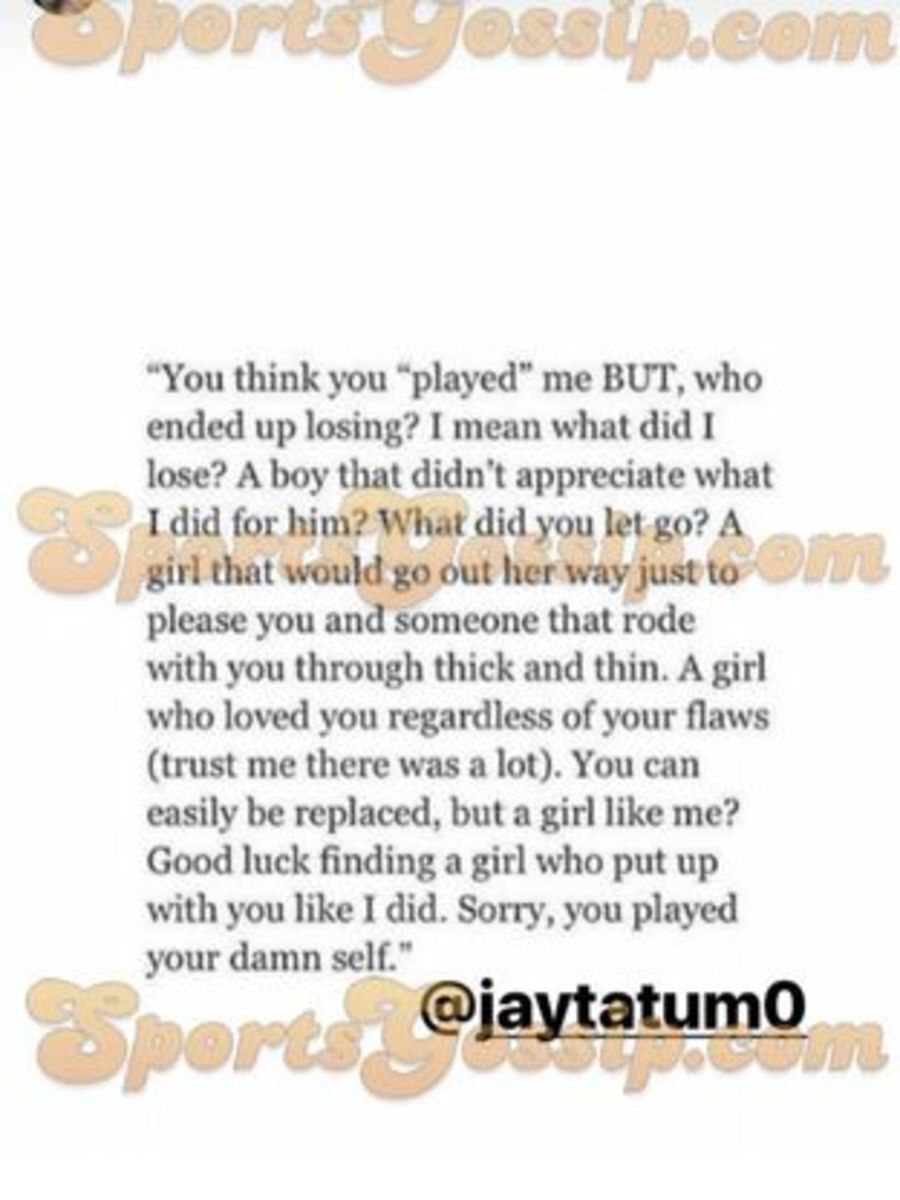 Back Before the Drama
Since Jayson Tatum attended Duke and entered the NBA, Samie stayed back on Tobacco Road. She will graduate in 2020, according to her personal profile. According to her official school bio, She is also older than Jayson. Samie was born in 1997 while Jayson was born in 1998. Three days after the Boston Celtics selected Jayson in the 2017 NBA Draft, Samie appeared on social media in an official Celtics jacket. The caption read "guess I'm a Celtics fan now". Jayson himself commented with multiple shamrocks. In fact, he comments with emojis on almost every post she puts up.
Way back in April of 2015, Sports Illustrated wrote an article about Jayson. In it, the author mentions how fans of Jayson wondered who his girlfriend is. The article does not mention Jayson Tatum's ex-girlfriend because Jayson did not yet attend Duke. However, the author details Jayson's high school basketball success at length. It mention how his entire extended family attended every one of his games. At one game, his grandmother arrived early to "stake out" a good seat. Did Samie's family go to all of her high school games?
Jayson Tatum's ex-girlfriend bleeds Duke Blue
Back in May of 2014, an article by Trib Live talked about Samie's decision to attend Duke. Of particular note is the fact she committed to Duke after completing just half a high school career. She said in the article, "I didn't imagine committing to a school this early on." She added the school and coaches impressed her enough to decide. Jayson Tatum's ex-girlfriend also mentioned the other school she considered was Penn State. That makes sense since she frequently expresses her love of Pittsburgh. Attending Penn State means you are only 138 miles from the city rather than 476. In the article, her high school coach also said Samie came from tennis to volleyball practice and never missed one a practice.
Jayson Tatum's ex-girlfriend visited Boston on November 17. She posted a video on Storrow Drive while she visited. She also mentioned that she's "obsessed" with the city. Earlier in November, the Duke Volleyball Twitter page shared a video of Samie. She visited a girl named Madelyn in the hospital. The girl was diagnosed with Hodgkin Lymphoma, so Samie and teammate Kincey Smith came to pay her a visit and cheer her up. Samie slapped Madelyn a high-five and lifted her spirits. Will Samie move to Boston after she graduates?