It all started with a weird, and seemingly untrue rumor of Ahmad Bradshaw dating Angelina from Jersey Shore.
We've never been shy about interjecting opinions on stories we cover, especially when it comes to two celebrities dating, and we weren't shy with our disgust at that rumor.  A couple weeks after we posted, we received a very pleasant email letting us know that the rumor was untrue.  Ahmad Bradshaw was in a long term, stable relationship with a woman who was not famous for hooking up with Vinny or being the self appointed Kim Kardashian of Staten Island.  The email let us know that he was with a woman named Jessica Marcus for over a decade and with whom he had two children.
After corresponding with the emailer, it turned out that this was the Jessica Marcus in question.  Jessica was more than able to supply us with proof of the two being together and through our correspondence, it was easy to see that she was a well spoken, thoughtful individual who had some interesting perspectives on the life of the girlfriend of a pro football player.  We thought she'd make an exceptional interview, and our expectations were more than met.
Jessica Marcus: Ahmad and I started dating when I was 16 and he was 14! So we have been dating for almost 12 years! We have def had our ups and downs but I think that's anybody who has been together as long as we have!
PW: Knowing that you guys more or less grew up together, how has the transition been from Graham High School, to Marshall, to almost being Mr. Irrelevant when picked at #250 in the 7th round by the Giants?
JM: The way I look at Ahmad has always been the same, whether he was in his number 2 jersey in high school, to his 44 jersey at Marshall, to his 44 jersey at New York, Ahmad is just Ahmad to me!  I have always loved to watch him play, but I have to admit, I'm not a big sports fan, I still don't even know all the rules of the game! I just learned this past season what a safety was! :).  But it honestly doesn't matter where he is playing, no matter how big the venue, it's just "modd" I see out there!:) So the transition has been easy and it has been nice to watch him evolve as a player!
PW: How is it going from a small town in Virginia to being with one of the biggest football stars in the biggest market in America?
JM: It's just what life has dealt us!  I can definitely say that I do NOT envy any one who is famous! When Ahmad first got into the league, we could pretty much go anywhere and no one really bothered us! But now we can't go anywhere without people wanting autographs and pictures with him! So when we are with our babies or our family, I do wish we could have a little more privacy but I am very thankful he has fans who love and support him the way they do!:) I know one day all the attention will die down, so I choose to just be appreciative of the fans and the love they show him now!
PW: The main reason you wrote us was after Angelina from Jersey Shore inserted herself into the public eye by issuing a non-denial denial about her in a relationship with Ahmad.  Would you like to take the opportunity to set the record straight?
JM: Well first off I would like to say, I do not know this girl nor do I know what her intentions were in posting that pic of her and Ahmad on her twitter! I have never watched jersey shore so I had never even heard of her! Of course I know who Snooki and J-Woww are but they do others things besides just Jersey Shore! I had seen the twitter picture before this story ever came out, but it looked like she was just a fan! She put the twitter picture up and underneath it wrote " Ahmad Bradshaw Baby" or something like that, so it just looked like she was a fan! If you are truly dating someone in the public eye, you do NOT write about it on twitter or post pics of that person with their name in all capital letters! I was confused by her interview because she said that her and AB were close friends? I know all his close friends and I have never met nor heard of her! Ahmad told me that he knew her and that he had seen her in clubs around NJ and NY but to say they are close friends is just not true!  Maybe she just said that because she was trying to be polite in the interview or something! Lol I have no idea why she said that???;) But like i said I do not know what this girls intentions were, but if she was using Ahmad to be relevant,  next time she should really use someone who is single and doesn't have a family at home!
PW: How do you guys deal with groupies and people simply desperate for the spotlight by clinging to Ahmad's name?
JM: Well I must say it disgust me! I never really believed there were such things as " groupies" but boy was I wrong! It's like these women are raised to go after these athletes and men in the spotlight so that they can get a paycheck! They have no motivation outside of chasing these guys! These girls know where the boys hang out, where they eat, where they shop, and they are almost like stalkers in a sense! They wear clothes that leave little to the imagination and they are ready to take it all off with any athlete that will let them!  I think there is a scripture from the Bible, Proverbs 11:22, that sums up how I feel about these "groupies"; "Like a gold ring in a pigs snout, is a women who shows no discretion!" Meaning, you can dress a pig in the finest gold, but if you act like a pig, you are a pig!
PW: So Brandon Jacobs just signed with the 49ers, and it looks like Ahmad is going to be the man this year in the Giants backfield.  How is excited is the household for what 2013 may hold?
JM: Well I can tell you that excitement about BJ leaving is not what we feel! Brandon is such an amazing man! He is an outstanding father and a wonderful husband! He is such a kind hearted guy! Our families are very close! His wife Kim is to me, what BJ is to Ahmad! She is a mentor, a big sister, and a friend! So it's not just a relationship at work for them, it's a relationship at home too!
PW: How often do you and other wives go to the games?  Do you go together?
JM: Lol. The wives and girlfriends go to all the games! Sometimes it's hard to go to the away games ,when you have babies at home , but we definitely go to all the home ones!  No one really goes together, we just meet at the stadium and sometimes we even tailgate!:)  Lol!!:)
PW: Have you had the chance to meet Tom Coughlin?  He's certainly not the cuddliest guy out there, and there are plenty of stories about Coach not being able to leave the hard-ass persona in the locker room.  How is he in real life?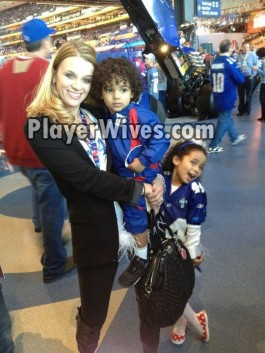 JM: Coach Coughlin and his wife are two amazing people! They  are so loving and they have always cared so much about Ahmad and our family!  Couch Coughlin makes the Giants a family, not just a team! I know he is strict but with discipline comes reward!:)
PW: How hard is it to watch knowing that your longtime boyfriend and father of your children could be seriously injured at any given second?
JM: It is very hard to watch Ahmad get hit because he hides his pain! He will take this awful hit or hit someone else and no matter how hard it is or if he is in pain, he won't show it!  Ahmad is so tough and people forget that he hurts just like anybody else! But the difference with him and most other guys, is he toughs it out, sucks it up and just keeps playing! No matter what! He is so dedicated to football and his team!
PW: So two your team has Super Bowl wins over my beloved Patriots and in the second one, Ahmad scored what proved to be the winning touchdown with short time left on the clock.  The Patriots had ceded that the Giants were going to score one way or another so they let Ahmad in despite his best effort to stay out.  Did you realize what was going on when he tried to stop himself before the goal-line?
JM: I didn't even get to see it! I had our two babies, and his son with me, so i spent a lot of the game setting down with the kids!So When everyone in the stands stood up I could not see anything ! And of course, everyone in the stands was standing up at the time!
PW: OK, final question and we'll let you go.  Are the reigning Super Bowl champion Giants annoyed that the Jets are getting more press right now due to their newly acquired backup quarterback?
JM: Well I don't know anything about that stuff, but the Giants are the World Champions right now, I doubt they care!:)