GD Star Rating
loading...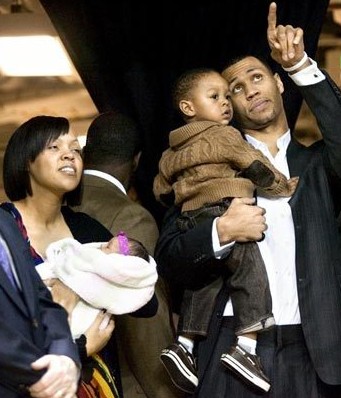 Brandon Roy's wife Tiana Bardwell

,
The Story
Brandon and Tiana have two children together: son Brandon Jr. aka BJ, born in March, 2007 and daughter Mariah Leilani, born January, 2009.


On another note, PlayerWives would like to apologize for telling a sweet and emotional story in this space. It is not the standard operating procedures of this site to pass along happy and celebratory stories. We deeply apologize to anyone coming here expecting us to make fun of Brandon Roy, Tiana Bardwell or anything in between. We apologize for this happy story, and will work hard to be snarky and cynical tomorrow.
Sincerely,
PlayerWives
The two have been dating for a long time, and Brandon finally mustered up the cojones to ask her "the" question in June, 2008. A few months after giving birth to BJ, Brandon suggested that he take Tiana out to look at engagement rings, just to "see what she'd like." While still at home on the day they were supposed to go ring shopping, Brandon sent Tiana a text message telling her to look in one of his drawers for something, cryptically adding that "she could have whatever she found." After a few minutes of digging around, she found a ring box in a drawer, and turned around only to be greeted by Brandon holding his infant son. At that time, Brandon asked "BJ wants to know if you will marry his daddy?" Tiana immediately said yes, and the two were scheduled to be married as man and wife in August, 2009.