In the usual vanilla world of the PGA Tour, things got a little spicy today. Following the news of Dustin Johnson's off the course antics, the golf spotlight turned to Will MacKenzie's wife Alli MacKenzie, and allegations of her involvement with this mess.
By now, many of you have heard about Dustin Johnson's leave of absence from the PGA Tour, which just so happened to have coincided with a failed drug test, and rumored to be a third failed test for cocaine. In the wake of the news, FOX Sports Senior Golf Analyst Robert Lusetich took to Twitter with a couple items of interesting fodder.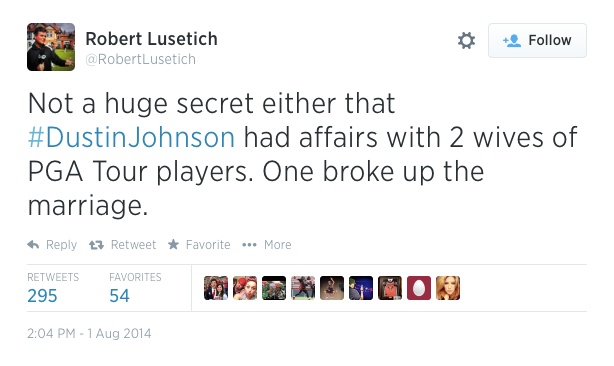 Now in the information hungry Twitterverse, dropping this bomb was never going to fade quietly into the night. The world was determined to find out who those two PGA Wives were, and this is where Will MacKenzie's wife Alli MacKenzie enters the picture. Many people tried to connect some dots, and when considering that Will and Alli MacKenzie are in the process of divorcing, assumptions were made.
Intrepid Blogger, founder and CEO of Barstool Sports (and one of our blogging heroes), El Presidente, Dave Portnoy took directly to the source to ask Alli directly.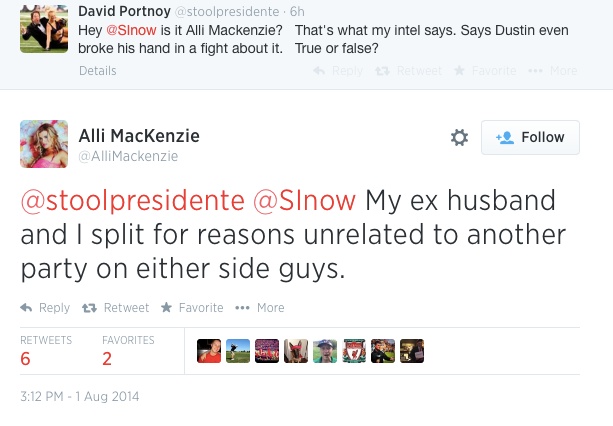 Direct from the source. Alli MacKenzie wound up taking the high road and removing all Twitter chatter from the day's events from her timeline, which when considering that the Will and Alli have two children together, makes sense. The discussions didn't really end there, as Busted Coverage also engaged in a conversation with Alli, where she doesn't exactly deny hooking up with Dustin Johnson, but is also very specific to the timeline. She engages in discussing the rumors of an indiscretion, while not coming out and saying that there was no indiscretion. She does point to the timeline of rumors of her and Johnson hooking up began after her and Will had separated. Anything that did or did not happen had nothing to do with the ending of her marriage.
For his part, Will MacKenzie is seeing the split from the former FHM model as amicable. In an interview with Golf.com, Will spoke about the divorce:
"It's kind of freed me up a little bit. It's got me focused on golf. I was focused on other things, like trying to keep a marriage going that was not working. We're still buds. We're working it out for the kids where I'll have them when I'm home [in Jupiter, Fla.] I'm still good friends with Alli's parents."
It will be fascinating to see whether this continues, or whether the stuffy atmosphere of golf fans will suffocate this one before it begins. That said, anyone remember a scandal with Tiger once upon a time?