Mason Rudolph's girlfriend may very well out shine the Steelers QB in the celebrity department.  Career wise, she's no slouch.  But she may be known more for her viral moments than what she's accomplished professionally.
First things first
Right, first things first.  Let's talk about Mason Rudolph's girlfriend and how that came to be.  According to TMZ, these two recently began dating.  But, things have progressed quickly, and are getting "serious".  From TMZ:
Call this a new kind of love-love for tennis star Genie Bouchard … TMZ Sports has confirmed she's now dating Pittsburgh Steelers QB Mason Rudolph!!!
A source close to the couple tells us the two began a romantic fling recently … and have gotten pretty serious.
In fact, 26-year-old Genie was just spotted at a fancy restaurant in Pittsburgh this week … posting a pic of her at the place with the caption, "Pitt stop."
Now for those who don't know who Genie Bouchard is, let us fill you in.  Mason Rudolph's girlfriend is a Canadian tennis player who has enjoyed success on the professional tour.  At one point in 2014, Bouchard was ranked 5th in the world.  In 2020, she's still a ranked professional, continuing to enter and play in many tournaments.  While we researched this post, we came across this gem, from Wikipedia, which I can't deny is pretty dope to learn about her.
A proficient student in mathematics and science, she once considered a career as a physician.  She is fluent in both French and English although English is her first language and her French-speaking skills have been criticized by Francophone media in Quebec.
About those viral moments, and why does everything come back to Tom Brady?
Right, we did bring those up, of course.  Before she was Mason Rudolph's girlfriend, she was known for being just a tad too confident in the Falcons ability to close out a Super Bowl.
Ah, yes, the infamous 28-3.  While the Falcons were cruising along, Genie was so confident in the outcome, she got caught up in a rando from Twitter checking her.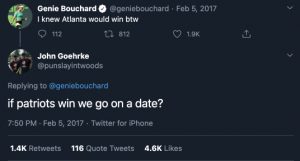 A simple "Sure" was the reply and the rest was history.  But, for once this wasn't just a one off publicity stunt.  Genie and the civilian wound up going on a few dates, with Genie not shy about sharing it.  Hey, shoot your shot, right?