Running a site that's chronicled the Wives and Girlfriends of nearly 2,000 professional athletes in our history, you hear from the WAGs directly every so often. There have been less than pleasant conversations for sure, but we've also been lucky enough to have great interactions as well. And one of our favorite interactions of all time is with New England Patriots cornerback Alfonzo Dennard's girlfriend Ashley Brown.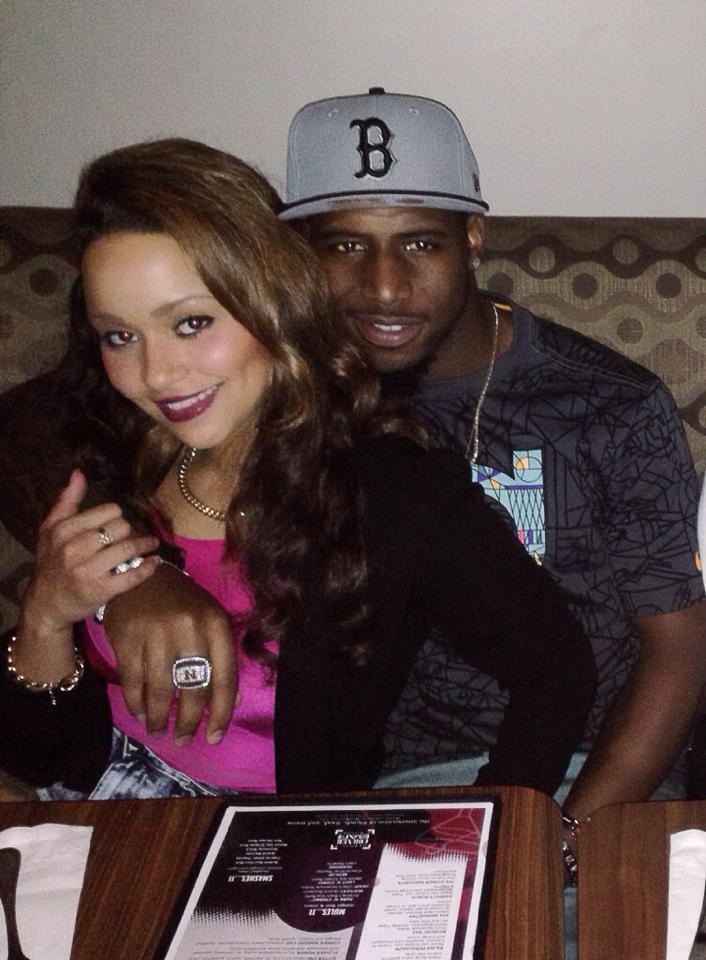 PlayerWives.com: So we usually open up giving you the option to tell your story. How long have you and Alfonzo been together? How did you meet? Kids?
Ashley Brown: Alfonzo and I met through a mutual friend around the end of his junior year of college, we both were skeptical about going on a "blind date" but after that first date, we were inseparable! We have 2 daughters, Jurnee is 4 and Lark is 1. I'm also currently pregnant with twins due Sept 14′ Alfonzo happens to be a twin himself and they run in every generation in my family.
PW: The Patriots have made some major changes to their pass D this offseason. How does Alfonzo see his role changing next year?
AB: One thing I learned about the NFL is you can't control the changes that come, the best thing for him to do is get better everyday and work hard to support his family.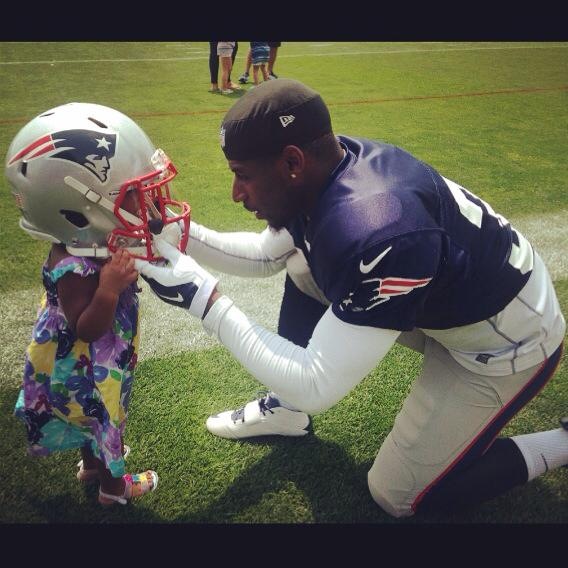 PW: What's it like watching Alfonzo go out there every Sunday knowing injury is always lurking around the corner?
AB: Each game is incredibly nerve racking and intense! We just pray and know that whatever happens is for a reason, and we can't control the man above.
PW: The NFL is a fickle league where there's eye popping money to be earned, but also the looming threat of being cut at any given moment and having to up and move your lives. While so far, New England has been your only professional home, how does a family prepare for that?
AB: There's really no way in preparing for something like that, we try and take it day by day. It's something that you really never know how to handle until it happens.
PW: What has been the best thing about life in the NFL? What's been most challenging?
AB: The best thing has been watching Alfonzo build his career and live his dream! From watching his college games to getting drafted, it's all an amazing experience! Obviously moving away from our hometown, family and friends has been challenging but it's just another chapter in our book of life! We're absolutely blessed to be here and thankful for the opportunity.
PW: Alfonzo has had some off the field issues, which dropped him in the draft, and saw him serve some time this offseason. With a media hungry town that loves it's sports, how has it been on you, Alfonzo, and your family/?
AB: Thankfully we've managed to get through it with our chins up knowing that we can now put it all behind us and move forward. Nobody is perfect and everyone has their chosen obstacles.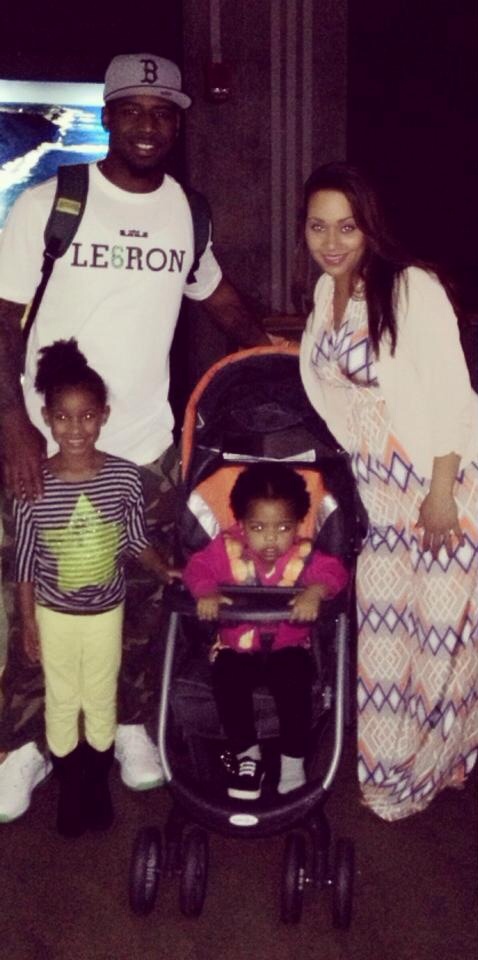 PW: There has been plenty of discussion about that talked about Alfonzo mentoring his cousin Darqueze Dennard (former Michigan State cornerback and Bengals rookie) about keeping his profile clean off the field. Alfonzo seems to have grown from the incident before the 2012 draft and helping others learn from his mistake. Is that a fair observation?
AB: Absolutely! There's no going around the incident but the only way out is the way through! And it's only made him an even better father and significant other.
PW: How is Boston in general? This town love our sports, we love our athlete's, and some of the fanbase doesn't quite understand and respect boundaries. How's the experience been so far?
AB: Being from Nebraska where the Husker football team pretty much rules the town, the fan base is very similar. Nothing outrageous has happened as far as fans- I often encourage Alfonzo to reply to his fan mail and to always stop and sign an autograph when asked. But Boston in general is a great place! Definitely bigger than what we're use to so it's great to experience life up here!
PW: Even outside Boston, people love to speculate. I know there are a couple message boards out there which anyone can hop on and post unverified stories about being with or knowing someone who was with a player. How do you guys handle that? Can you truly block it out?
AB: This world is all about people speculating and thinking they know everything when in reality they really are just begging for a reaction from us. Alfonzo and I have a very long and strong relationship and it can't be broken by social media or false accusations. We don't acknowledge them therefore they remain irrelevant.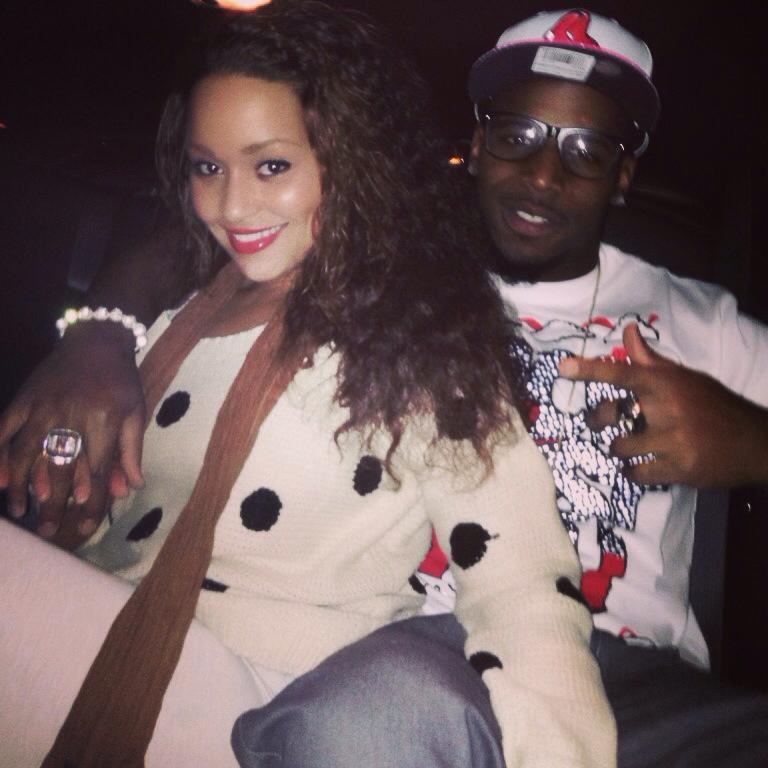 PW: There's an interesting dichotomy with Pats fans specifically. Tommy's wife just so happens to be the biggest supermodel in the world. Vince's wife is one of the most well known WAGs in the NFL. While we know Gisele isn't always in attendance, what's it like in the family section? Is it competitive? Are the other wives and girlfriends embracing of new ladies to join?
AB: The wives and girlfriends are very welcoming to new ladies! They're very helpful and willing to lend a hand.
PW: Michael Sam has raised an interesting question: How would the boyfriend or husband of a player fit in with the rest of the significant others from the team?
AB: I don't see any problem with anyone fitting in no matter what the issue may be. We're all here for our significant others and that's all that matters!