Retired NBA player Doug Christie was known for a few things in his career: most notably being a pest to anyone with the ball as evidenced by his 4 consecutive selections to the 1st or 2nd NBA All-Defensive Teams. Off the court, though, Doug Christie carried a reputation. It was a reputation met with more scorn, mockery, and disgust from bloggers and talking heads than most in the NBA dealt with. This reputation followed him for years. It wasn't a drug suspension, it wasn't a dirty player reputation, it wasn't a violent strip club attack, accused rape, or dog fight. Doug Christie's flaw was having a monogamous, loving relationship with his wife, Jackie Christie.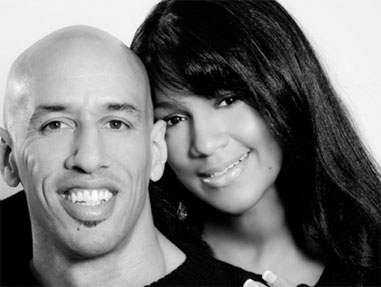 Unlike many players in the league, Doug and Jackie kept a close marriage, dedicated to the vows made at the altar. Doug kept reminders of Jackie with him on the court, including an on court gesture which signaled "I love you," to her. Jackie would accompany the team on road trips and stay with him in team hotels.
Jackie, in turn, became one of the first visible Player's Wives, an ostensible Godfather to the new class of Basketball Wives, long before days of reality TV shows and PlayerWives.com.
Doug retired from the NBA in 2007, but the two have kept busy and in the public eye. With a new clothing line for Jackie, and basketball training school for Doug, PlayerWives was given our first crack at an interview and covered a gamut of issues. Enjoy:
PlayerWives: Was Doug's transition into retirement a major culture shock for you?
Jackie Christie: Yes, in a good way because basketball is and always was his life outside of family and so when he began to slow down playing, we had even more time to spend doing the things we love and to kick all of our businesses off so its been very nice. However basketball remains a love of ours.
PW: You and Doug have both had various forays into reality TV. How have you found the experiences to affect your relationship?
JC: We have a really close marriage and relationship so being involved with the show didn't really affect our relationship at all, we know who and what we mean to each other and it was fun actually for us, we got to see how we really act towards each other when we watched the show on TV.
PW: You often donate proceeds from your shows to charity. How do you choose the charities that you donate to?
JC: I really feel my mission and calling in life is to help as many people as I can and I love helping in any way that I can when I choose a charity to donate to I look for people who are in the most desperate need at the time and I reach out to them first. I really do not have any specific organizations I want to help everyone that I can.
PW: Jackie, you would often accompany Doug on team road trips, which, I have always been under the impression, isn't common practice. Were you met with any opposition, either from Doug's teammates, team officials or anyone else?
JC: LOL! Yes I came under opposition from the media and few individuals who did not like or understand me traveling with my husband and it was really unfortunate as we are best friends, lovers and each other's rock and they really should have applauded us being together and enjoying each other, but we dance to the beat of our own drum so it never caused us stress. As far as his team mates they were very supportive and offered nothing but awesome friendships.
PW: When you would accompany Doug on these team road trips, there were some media members that mocked both him and you for the decision. How did this affect you both individually and as a couple?
JC: We would not let them and their personal issues effect our love and desire to be together and we always looked at it as some sort of ignorance to what we truly stood for and that was and still very much is our marriage to each other and our family. The bond Doug and I have is unbreakable.
JC: most definitely, they would travel too sometimes not too often though.
PW: For the wives of pro athletes who don't travel with their team, how are they supposed to stay at home confident their husband is stronger than the rest?
JC: I would say open the lines of communication up and use them as well as any opportunity that they can go with their mate to do so, it offers him your support and company. Besides if you're his everything then he should be able to enjoy you all the time. If you have children and their young (not in school yet) take them too nothing beats family support.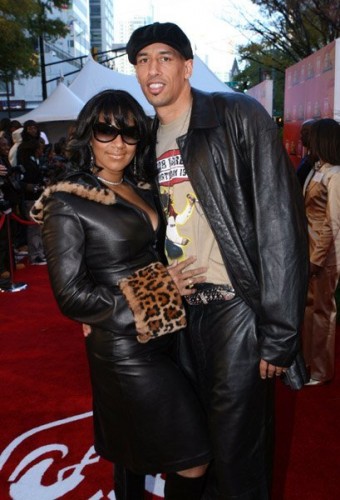 PW: Are the rumors about the rampant gambling taking place on team charters true? Did you ever take part?
PW: Rather than celebrating an anniversary every year, the two of you get remarried every July 8th. In the past, you've done it at the Staples Center, and the Seattle Space Needle. Which one has been your favorite?
Doug Christie: Marrying Jackie on a cruise ship. We took a cruise to Jamaica, our favorite vacation spot and we remarried on there, it was over the top sexy fun and romantic!
PW: Where is the 2011 marriage taking place?
DC: We are still deciding but out of the 3 places we will say LA marks high on the list.
PW: You have been quoted as saying that you loved living in Toronto. What was it about Toronto that made you feel this way?
DC: Playing in the city was awesome & the food and shopping was great too. We made lots of friends over the 5 years I played there and my wife and kids experienced a different culture, it was like we were in Europe.
PW: What has been your favorite city to live in?
JC: Hands down it would be Sacramento. They made us feel at home and the team was all family, we made lots of friends in the 5 years that we were there.
PW: You have been criticized in the past for having been too involved with your husband and his career. How do you answer those critics?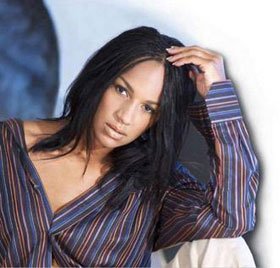 JC: I would just say to people that have a complaint to get busy taking care of their home & don't worry about a man and a women that will always LOVE, HONOR AND CHERISH each other. I would tell them that what Doug and I share let no man come between us.

PW: Doug would often make a hand signal during games to signal "I love you" to you, in fact doing this 62 times in one game against the Raptors. Were you ever concerned about being a distraction to Doug during the games and whether this might negatively affect his play?
JC: No not ever, as we both knew what it meant and shared that. If anything I was his good luck charm
PW: Your website previously had a page titled "The Haters Club" with a list of media members including Slam Online, The Brushback and Bryant Gumbel. In general, what did these media members do to make this list?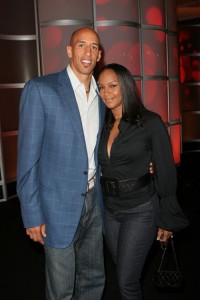 JC: LOL! Yes they really just stalked me and Doug and tried to tear us down over and over again. No matter what we said or how good he played or how I never caused any problems they found it fun to take jabs at us so the only thing I could do was to say hi hater let's let the world know who you are.
PW: You have previously worked with other professional athlete's to help them from falling victim to the groupie temptations that go along with being on the road. Are you still doing that?
JC: Yes and we will always. We really want everyone to have a successful relationship or marriage so if we can help in any way with that we will.

PW: Without names, how many do you think you've spoken to about this?
JC: At least 20 plus couples and all are doing great.
PW: Besides consulting other pro athlete's you both have busy professional careers. I know Jackie has a new clothing line launching. Tell us about that.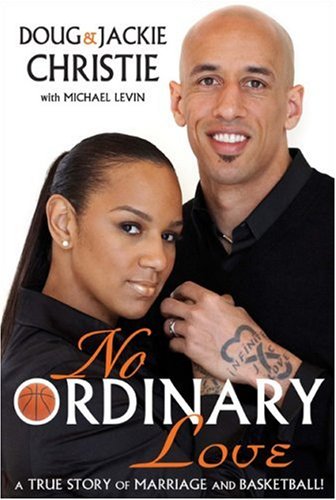 JC: Yes I have been designing for a while now and I love fashion, I have dressed many NBA wives, celebrities and others and I just debuted my Jackie Christie winter/spring 2011 "Black Collection" at LA fashion week and it was awesome. You can preview the collection on JackieChristie.com
PW: Doug, you've been working closely with players in the league. What role are you taking on?
DC: yes I own my own company Christie Sports Management & Training and I train pro, college and youth players in mind body and basketball. It is very rewarding to share my love and experience of the game with them and to watch them grow in the sport on and off the court. For more info visit DougChristie.com
PW: Both of the guys who run this site are getting married this summer (and for our vulture readers, no, not to each other). Having a successful marriage yourself, what is the single best piece of advice you can give us?
DC/JC We would say always respect yourself and your mate, be committed to your marriage put your mate first and always communicate with each other.