In what is fast becoming a trend at PlayerWives.com, we have another interview for you. This week, we're talking with Thaddeus Young's fiancee Shekinah Beckett about their upcoming marriage, Thad's free agency and the life of an NBA WAG. Enjoy. We'll keep bringing you the interviews (and trying to get ourselves courtside seats in the process).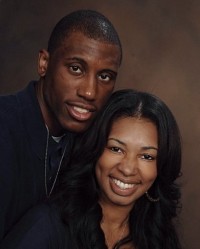 PlayerWives.com: How long have you and Thad been together for? How did you meet?
Shekinah Beckett: 7 years! Thad is good friends with my cousin and he told my cousin he wanted my phone number. In high school he was kind of shy.
PW: You are engaged to be married: when is the big day? How is the wedding planning going?
SB: Yes!! August 2012! We haven't decided on a specific date because we haven't decided on a venue but we have went to see a few. We have a wedding planner (social couture). With the season starting back, there is no way we could plan a wedding in Memphis and we are in the city he will be playing for.
PW: We're all stoked at the end of the NBA lockout, and assume you and Thad feel that to a much higher extent. How did you guys find out about the end of the lockout? Were you notified in advance or did you find out through the media like the rest of the public?
SB: We are VERY excited that the lockout is finally over. During the lockout Thad's agent has been keeping us informed. I started googling it just to make sure it really was over.
PW: As a restricted free agent, Thad will be directly impacted under the new agreement. Have you discussed how this will affect your family? Do the new rules concern you guys as a future restricted free agent?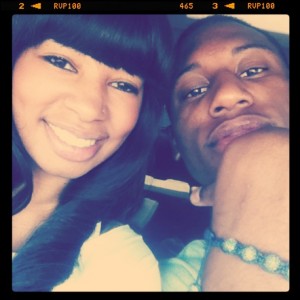 SB: Yes we have talked about it and Thad is just happy that it is over and that they can play again because he couldn't play in any of the charity lockout games because he didn't want to hurt himself.
PW: When the lockout was in force, we know Thad had some options to play overseas, including with the Chinese Basketball Association. If he'd gone overseas, were you planning to go with him?
SB: Yes! When they approached him about it he informed them that our son and I would be with him
PW: How do you approach the possibility of Thad being dealt to another team in the NBA without his involvement in the transaction? Does the possibility of being traded loom over your heads?
SB: We've talked about it and we are hoping for the best. He would love to stay with the sixers but basketball is kind of like politics. As long we are together I honestly don't care where he plays.
PW: Do you guys have a permanent home address with another spot in the city he's playing, or do you move anywhere the NBA sends him?
SB: We now have a permanent home which I love!! We will just have a apartment where ever he is playing.
PW: We know he spent a lot of time in Houston this summer working on his mid range game with John Lucas. Does he spend a lot of his offseasons traveling to work with various coaches and players to keep his game sharp? Does the travel schedule ever calm down for your family, or do you need to be ready for him to be gone at any given time?
SB: He used to but now that Thad is established he makes more time for our son TJ and I. We were in Houston with him. Yes it does calm down but I understand that he has to travel. When he is gone more than a few days the baby and I will go too.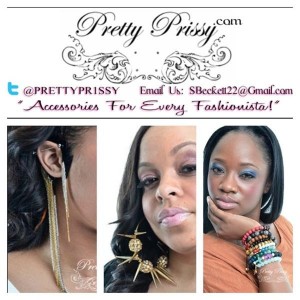 PW: When games are in session, do you get to travel with him often? Where are some of your favorite cities to see him play? If you came to Boston, how bad did our city treat you guys?
SB: Depending on the city. The older our son gets I travel more. We always go back home when the Sixers play Memphis. So many memphians support him. LOL, I have never been to Boston for a game but I have a close friend who has. She said it was intense. I would like to visit.
SB: I love accessories!! Everything on my site is affordable. Thad and some of my friends encouraged me to start it up. It keeps me busy when Thad is away.
PW: Was running an online store opposed to a brick and mortar done to allow yourself flexibility in work locations? Were there any thoughts to being moved at any given notice for running an online site?
SB: Yes. I want to open a brick and mortar store but it wont be until after we are more settled. I like the flexibility of being able to operate the online store where ever we are because we fly frequent.
PW: Thad plays in a market with a rabid fan base, Philadelphia. Last year, Phillies closer Ryan Madson's wife made some disparaging comments about the fans as they could never get privacy out in public. What are your feelings about Philly? How have the fans been to you and Thad in public? Any crazy run-ins?
SB: LOL! Um… Philly has the best fans. I can agree with his wife that sometimes the fans don't understand that the players have a life outside of sports. I like Philly. It took some getting used to. For the most part the fans are nice. If Thad and I are out eating he will tell the fans he will sign autographs AFTER we eat. Once we had to leave a bowling alley because fans kept asking for autographs. No crazy run ins and I hope we never have any.
PW: Philly has a ton of young talent, with a few older vets tossed in. How does the team break down in terms of guys with wives/fiancées/girlfriends, and those that are single? Does it effect Thad's ability to go out with guys on the team?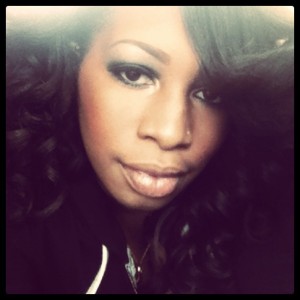 SB: Thad is a home body so he doesn't go out much. He likes to invite his friends over to watch football in his man cave. I'm not sure of everyone's relationship status but there are some married players. Thad has talked to them about being married.
PW: On that note, many of the other women we've spoken to have indicated a sense of community amongst the other wives and girlfriends on the team. Are you friendly with the other wives and girlfriends?
SB: Yes I am. I speak to everyone! I'm always down to hang out or have girl talk. I recently joined a social network just for pro athletes WAGs called skkybox.com. All of the women I've encountered on there are great!
PW: What is your feeling on the show Basketball Wives? We've heard varying responses to this from the significant others of NBAers.
SB: Um… I don't personally know any of the ladies on the show. It's very entertaining. The WAGs that I know don't act like that but I guess everyone is different. Thad and I watch it when we can.
PW: So Thad recently put his jersey number out to fans to vote on at Sixers.com. Did you have a preference? How did you guys me up with this promotion?
SB: I didn't have a preference. He wanted to keep his high school and college number (33) but at the time Willie Green had it. So instead of picking a number they thought it would be great to let the fans decide as a way for the fans to get to know him since he was new at the time.
PW: Final question and you're off the hook. I must confess that I have Thad Young on my fantasy roster. I have a decision on my keepers due in two weeks. Here's your chance: Tell me why I need to keep Thad Young for the 2011-2012 season and beyond.
SB: My answer will be biased because I'm his number 1 fan! I think that you should keep Thad because he is a dedicated player. Sometimes we are in the gym at midnight working on him game. He has great work ethic. If you look at his stats from 09-10 and 10-11 season you can see that he improved greatly in most areas. He's very effective on defense.
Thanks to Shekinah for taking the time out to speak with us.  Good luck to Thad in 2011-2012.