Blake Griffin's girlfriend gets a lot of press attention because he's a famous dude. The following women are all too familiar with this phenomenon. However, that's the price of dating a pro basketball star. In fact, a young model named Samantha Hoopes wondered aloud how it would be to date the man. Good luck, Samantha! Now that Blake dated a few ladies in the public eye, let's list them all and talk about them in one post…
Blake Griffin's Girlfriend Brynn Cameron
Brynn Cameron is the mother of Blake's two children, Ford and Finley. They knew each other before that as well. Their first child, daughter Finley, arrived in August of 2013. Ford arrived in September of 2016. Before Blake and Brynn started to think about kids, Brynn also had a son with Matt Leinart. Brynn formerly played basketball at USC and rejoined the team after she delivered Leinart's son, Cole. Furthermore, she found out she was pregnant only after they split up! When we wrote about her in 2013, Leinart paid her $15,000 per month in child support. She was 19 years old when she learned of the pregnancy. Her mother decided to quit her job to look after the baby while Brynn continued with school and basketball. She's the one the media says is Blake Griffin's girlfriend with the term "longtime" attached.
Here's where things with Brynn Cameron get a little bit ugly.  And, it's because of….
Blake Griffin's girlfriend Kendall Jenner
For months, Blake Griffin has been linked to Kendall Jenner.  And, while neither of them has publicly confirmed, the amount of paparazzi shots between the two since August of 2017 seem to tell another story.  They were spotted outside a fancy restaurant in Malibu, while Page Six also reported them having an inseparable weekend in the Hamptons.
Neither Blake nor Kendall's camps have confirmed the relationship to date.  Unfortunately, Brynn Cameron seems to have blown the cover off the story more than either would have preferred.  After Blake was dealt to Detroit, Cameron filed a suit against Blake for palimony support.  TMZ broke the story:
The lawsuit slams Griffin as a heartless cad who left his fiancee after "cruelly embarrassing his family with his public fawning over Kendall Jenner."
Brynn uses Blake's own set of circumstances — being traded by the Clippers to Detroit after being promised he was the future of the L.A. team — saying, "Griffin himself, however, knows very well what breaching promises is all about. After all, Griffin had no problem trading Brynn Cameron, his former fiancee, and the mother of his 2 children, for reality television star Kendall Jenner."
Blake Griffin's Girlfriend Sabrina Maserati
This is an old story from way back in 2011. We reported on it back then and mentioned Terez Owens first called it out. She used to attend the Clippers games. As soon as a hot woman hugs Blake Griffin in public, gossip sites start gabbing! Now, Sabrina disappeared from social media. The only time she received media attention was because of the Griffin relationship. After that ended, it appears she bounced from the spotlight.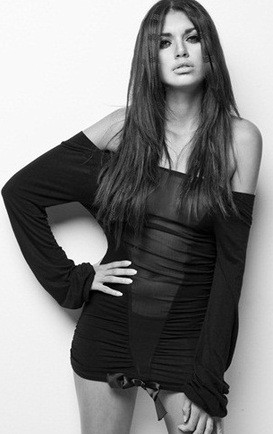 Blake Griffin's Girlfriend Kate Upton
So back in 2013 everyone freaked out about Blake Griffin's girlfriend apparently being Kate Upton. She turned up at a hip spot in Manhattan where Blake and DeAndre Jordan chilled. Blake held her hand and cuddled with her (according to E! News). These kinds of things happen since Blake is a star and Kate is a huge star. Now Kate is married to Justin Verlander. The lady likes athletes. If you don't know anything about her, she's a super hot model who appeared on lots of magazine covers. A good example is the British Vogue in January of 2017. She also does extensive runway work with the likes of Zac Posen.