Recently, PlayerWives.com was able to arrange for an interview with Seager Condit, the wife of MMA fighter Carlos Condit. Being big fans of Carlos Condit, this was a great opportunity to find out more about the woman behind the man. Enjoy.
PlayerWives.com: What is it like being married/dating one of the biggest up and comers in the UFC?
Seager Condit: It really is an amazing experience for the both of us. We've both been given so many opportunities to travel, experience new things, and meet a bunch of great people through this line of work. As with any profession it has its ups and downs, but most of all it gives us a ton of freedom to be home all the time with our son. I think that's the biggest perk of this job for us. Carlos does what he loves for a living. What's better than that?
PW: Describe how you and Carlos first met.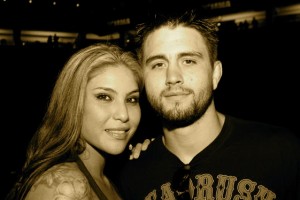 SC: Carlos and I met back in 2005 when I was training at a fight gym that he was out of. He was teaching kickboxing, and I took classes there with my brother. I lived in the same apartment complex as Coty "Ox" Wheeler and at the time, Carlos was living with Ox. So I spent time hanging with the dudes from the gym, and we all became friends. One thing led to another, and I haven't been able to get rid of him since!
PW: What did your relatives / friends say when they found out you were seeing a Mix Martial Artist who fights in a cage for a living?
SC: Well we met when I we were just barely twenty-one so nobody really cared. Most guys his age are doing random jobs anyways! Haha. Never in a million years did I think we'd be in this position though.
PW: What has been the hardest thing about Carlos' line of work?
SC: The anxiety. Six years ago it was all fun and games. We got to travel and hang out, and it was fun to watch him do work! Yet now it's a different kind of animal. With the elements of national television, huge arenas and thousands of fans the emotions run high. I can be fine. Cool, calm, collected and totally fine with watching him fight. But then that music goes on. You hear "Killing in the Name Of" and see your husband walking in towards a cage and hear the roar of people chanting, shouting and screaming and you start to feel what he's feeling way deep down inside. It almost makes me want to throw up it's so intense. It takes a lot of getting used to. Sometimes I handle it well. Sometimes I don't.
PW: Are you friends with any other MMA wives in the business? If so who? What is your relationship like with them?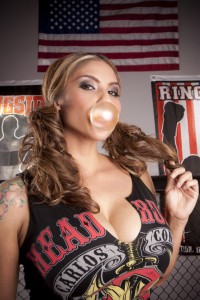 SC: Oh yeah. I love the wives. I feel like we're this little secret society that understand each other and connect with each other no matter how different we may be. I love Mrs. Daisy Bader she's such a sweetie pie! Miss Esther (Kyle Noke's fiance), Tache (Melvin Guillard's wifey) and I've written and chatted with some wives via the internet. They're all such strong women who obviously support their other halves completely. I respect that so much. It takes a toughie to go through the roller coaster ride of fighting that's for sure!
PW: Obviously you are a model. Does a professional modeling career and Carlos's fighting schedule cause a lot of time apart? How often do you travel with Carlos to all of his fights?
SC: Haha. Thanks I appreciate the compliment! Nah I'm no model. I'm a personal trainer at a local gym here in ABQ called Fitness Kicks. It's a different type of gym that specializes in teaching some really cool classes that relate to martial arts. I teach a cardio kick/technique class, kettlebells and I do bootcamps for overall conditioning. It's a ton of fun, and that's where the pics were taken. Carlos and I actually do spend quite a bit of our time together. I try to travel with him when I can, but with school, work and being a first time mom it's getting hard to break away! First and foremost is making the time to be good parents to our toddler son, Owen. Your baby's only this little once. You turn around for a second and bam! He's walking and talking. We're so blessed to be able to have the family time we do.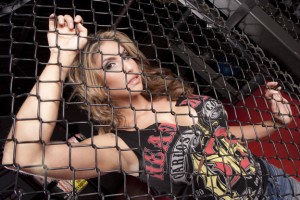 PW: Did you travel to England with Carlos for the Dan Hardy fight? If so what was going through your mind when he won by such a decisive fashion?
SC: Yes I did! Awww man that whole experience was just epic. It was like dead silence when the knockout came. It was an arena with something like 20,000 people and the only folks cheering were me, my best friends Rachel and Tyler, my father-in-law and Robert Downey Jr. Pretty awesome feeling. I was just so damned happy it was over quickly. I love when the fights are over fast. Really does wonders for my blood pressure!!!
PW: Clearly you are jacked…. you must workout with Carlos?
SC: LOL! Hey thanks. Yeah you know Carlos and I do sessions together here and there. But for the most part I stick to my regimen, he does his. He has a fantastic strength and conditioning coach, and I love to pick his brain so I'll tag along now and then. We support each other's interests a lot, so he'll hold pads for me and give me some training, and once in a while he'll come and do some hot yoga with me. (I have a feeling the half naked girls is the major draw there though) :)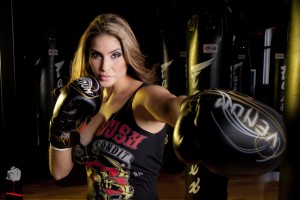 PW: What was it like for you and Carlos when the WEC was merging with the UFC? Carlos was one of the first fighters to migrate over onto the UFC events. Was there a lot of uncertainty there? Nervous about the transition?
SC: You know it felt pretty natural for us. We really loved the WEC and I think it was the perfect segue into the big leagues of the UFC. The UFC was always the goal at the end of the day, and Carlos was lucky to have had that experience of being able to see what it was like to have the pressure of the televised fights beforehand to be more ready when he transitioned. It couldn't have been a better plan than if I had written it myself.
PW: We've had a number of stories come in to us from people who've seen some crazy shit at a UFC after party. What is the wackiest thing you have ever seen at a UFC after party?
SC: Yeah well if you knew our friends, waking up to a stuffed deer head with an oxygen mask is nothing that out of the ordinary. There was this one time when I had a horrible cold. It was the WEC here in Rio Rancho, NM when Los fought Prater. I was in a NyQuil coma and I missed the entire after party. Yet I woke up the next morning to a house covered in protein powder. It was on the floors, on the ceiling, on the dogs. My couches were on the opposite sides of the room and furniture was missing. Yeah. It's like that. I don't even want to know.
PW: Obviously we have to ask it: Take me through what was going through your head when you found out that Nick Diaz got bumped from the GSP fight and you found out that Carlos would be stepping in? And then what about when GSP announced that he was injured and had to scrap the fight altogether a couple weeks later?
SC: Well ya know it was just another chapter in the saga! You know it's the fight game. People get hurt, people have shit go down. It's all in the day of the life of fighter and their families. It's just one of those things that you have to ride with. As cliche as it may sound, One must "roll with the punches". Of course we were disappointed, but hey. It is what it is, and we are still looking forward to the Georges fight! It's really an honor to be in that position at all.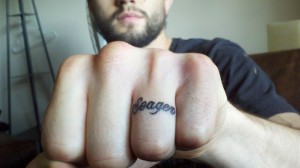 PW: When do you think that fight will actually happen now that Nick Diaz is fighting GSP instead of Carlos? Do you see this as an advantage for Carlos since he now has more time to prepare instead of jumping in there with the champ on short notice?
SC: Not sure when that fight will go down, however having more time to train never hurt anyone. For us it's just business as usual. Back to the gym. Back to the drawing board.
PW: Is Carlos a real Natural Born Killer? How did he come up with that nickname? Does he like the movie or something?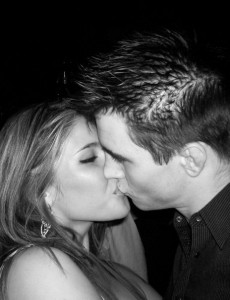 SC: Haha! If you didn't know Carlos was a "cage fighter" you'd think he was just a shy college dude who works at the skateboard shop or something! LOL. No I'm kidding. But really he's so not what he appears to be in the cage. He's very much the strong silent type. He's a homebody who loves to watch "Chopped" marathons and hang out with his son. Heart of gold this kid! We always say the Natural Born Killer is like a tattoo you get when you're sixteen. It made so much sense…then! But then you're an adult with a desk job and can't get rid of the damned thing! But yeah initially that's where the idea came from. Natural Born Killers was filmed here in NM, and the name just sounds "hard"!
PW: Don't you think that Carlos and Stephan "The American Psycho" Bonnar should start a tag team or something? Their nicknames go well with each other.
SC: American Psycho. One of my favorite movies. Such a cool name:) Tag team? That would be awesome!
PW: If you had to come up with a nickname for yourself, what would it be?
SC: Haha! Well let me see here…. Seager "The Warrior Princess" Condit. Yeah that sounds like a winner.
SC: Thanks guys! This was fun:)