GD Star Rating
loading...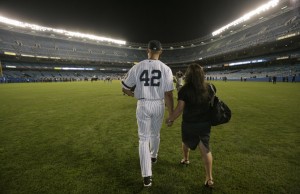 Mariano Rivera's wife Clara Rivera

,
The Story
Married since November 9, 1991, and they have three children together, Mariano Jr., Jafet, and Jaziel.
Clara Younce

Not so fast: Apparently, Clara was the one that proposed to Mariano in 1991. But hey, according to Mo: "She got the ball rolling, but I bought the ring. That's why they call me The Closer."
Mariano Rivera is a man's man, right?