GD Star Rating
loading...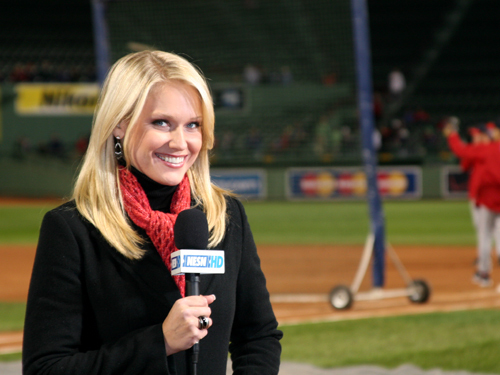 For more pictures of Ms. Watney, check out the last time she we posted about her rumored relationship with the Captain, Jason Varitek.
Nick Green's girlfriend Heidi Watney

,
The Story

Apparently, NESN/Red Sox sideline reporter Heidi Watney has no boundaries with dating the players she reports on. The Boston Herald Inside Track reported that Watney and Green were recently spotted out to dinner in Boston with Jacoby Ellsbury and his girlfriend Kelsey Hawkins. Apparently they enjoyed what was on the menu in a very not well hidden show of PDA.
We've been hearing this rumor for a couple weeks now, but wanted a little confirmation before running with it.

************
TWIST:
Heidi denies all on a local Boston radio show: "That's not true. It's a complete lie. I'm not dating him. I went to dinner with girlfriends the other night, not him."
Watney went on to explain that she's never dtaed a Red Sox player despite the various reports.
11-16-2011: Along with what seems like every single other member of the Red Sox, Heidi Watney has announced that she is leaving. Ms. Watney is leaving the Red Sox for her native California to cover the Lakers. No word on whether Heidi is leaving in part because her alleged boy toy Nick Green is no longer with the team.